Talia Natasha Kiley



Height

5'6

Weight

119 lbs

Born

December 24, 1990 (age 20)

Fairfax County, Virginia

Billed from

Richmond, Virginia

Resides

Tampa, Florida

Trained by

FCW, Alex Riley, The Miz

Debut

June 7, 2010
Early Life
Since being the youngest out of three children, Talia was considered the 'outcast' in her family, for mainly being the youngest and the way that her appearance was and the way she acted. She began training to be a professional wrestler when she was fifteen.
Wrestling Career
After spending three years in Florida Championship Wrestling, Talia made her debut on the Viewer's Choice Raw on June 7, 2010 where she was picked to be John Morrison's tag team partner against The Miz and Zack Ryder. Talia's team lost when Talia was pinned by Miz after being put through the Skull Crushing Finale.
Talia was used sparingly during Monday Night Raw until she used on a daily basis starting at May 23, 2011 episode of Raw when she was involved in the rivarly between Alex Riley and The Miz, usually trying to break up the fights that they have. She also teamed up with Alex on a few occasions against Miz and his various tag team partners.
After the Alex Riley/The Miz rivarly ended, Talia had been used sparingly on Raw.
It was announced that for Survivor Series, Talia would team up with Emma and Chana Mizanin against Beth Phoenix, Natalya and Diamond Kocianski for the newly reinstated Womens Championship. When the match was done, Talia's team won the match, with Talia winning the championship, making it the first championship in her career.
On the December 19 episode of Monday Night Raw, she defended the Women's Championship against Alicia Fox, which Talia retained the championship. At Wrestlemania 28, her and Divas Champion Serena Irvine lost their respective championships to Christina Cena and Leah Johnson in a tag team match.
Personal Life
Talia is the younger sister of Alex and Vivian Kiley. She is also the younger sister of another brother.
Sibling(s): Alex Riley (brother), Vivian Kiley (sister), Julia Brown (sister in-law)
Family Member(s): Rebecca Benjamin (Cousin)
Finisher(s)
Pentagram Choke
Spinning Heel Kick
Entrance Music
Pornstar Dancing by My Darkest Days (Single Theme)
Twitter Account
Talia's Twitter account is @TaliaNatasha75. She uses it to talk to her friends and fans as well as posts updates about what's going on with her.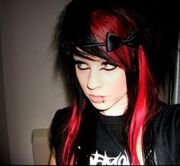 Title Reign(s)/Accomplishment(s)
1 time WWE Women's Champion