Miranda Marie James



Height:

5'5

Weight:

120 lbs

Born:

May 2, 1990 (Age 21) Montpelier, Virginia

Billed From:

Richmond, Virginia

Resides:

Orlando, Florida

Trained By:

Mickie James

Crystal James

Debut:

January 29, 2007 (WWE) October 7, 2010 (TNA)
Early LifeEdit
Miranda is the younger twin sister of Crystal James. While growing up her and Crystal got away with almost everything because they looked alike. She was unsure of following Crystal into wrestling at first but did anyway and loved it
Wrestling CareerEdit
Miranda and Crystal debuted on Raw on January 29, 2007 as back up for their older sister Mickie in her rivalry against Melina. After that rivalry ended Miranda and Crystal got into a feud with Tori Brooks and Isabelle Crawford for a couple of months.
After that rivalry ended Crystal turned heel and Miranda remained a face and the two sisters feuded for a couple of months until Miranda got drafted to Smackdown and Crystal remained on Raw. While on Smackdown she became a One time WWE Womens Champion before losing the title to Mickie 3 months later. When Mickie got released from WWE Instead of staying with Crystal Miranda asked for her release and got it.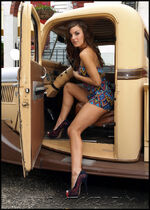 Miranda debuted for TNA on October 7, 2010 in a tag team match teaming up with Kyla Morgan to take on Casey Varon and Brooke Simmons. After Miranda and Kyla won they became known as 'Rock N Roll Country' Because of Miranda's country girl gimmick and Kyla's Rocker Gimmick
Miranda and Kyla began a feud with Brooke and Casey until Casey turned face after Brooke attacked her. After that feud ended the girls mostly wrestled on Xplosion but may go after Karen Jarrett and her girls soon.
Recently Miranda has been managing Crimison and Matt Morgan with Kyla and when Crimison turned Heel Miranda stayed face but is going to keep managing him.
Personal LifeEdit
Miranda is the younger twin (By 4 minutes) Of Crystal James and the younger sister of Mickie James.
As of January 28th Miranda is in a relationship with Crimson.
Finishing Move(s)Edit
Roundhouse Kick
Jumping DDT
Tag Team(s)/Stable(s)Edit
Crystal and Miranda (2007-2008)
Rock N Roll Country
Title Reign(s)/Accomplishment(s)Edit
1 Time WWE Womens Champion
Wrestler(s) ManagedEdit
Entrance MusicEdit
Forever by Chris Brown (WWE Singles Theme)
Pump It by The Black Eyed Peas (Tag Team Theme with Crystal)
Redneck Woman by Gretchen Wilson (TNA Singles Theme 1)
Country Girl (Shake It For Me) by Luke Brian (TNA Singles Theme 2)
Dirty Little Secret by All American Rejects (Rock N Roll Country Theme 1)
Honky Tonk Badonkadonk by Trace Adkins (Rock N Roll Country Theme 2)
Twitter AccountEdit
Miranda's Twitter account is @MirandaIsCountry. She mostly uses it for Updates and to talk to fans on there